Video introduction
How to use
Lift the microphone, enter the number in the whitelist, and press OK to dial out.

Phone application
Stations, campuses, docks, airports, scenic spots, squares, shopping malls, residential properties, municipal engineering, regulatory complaints, convenience services, hospitals, vehicle management offices and other places.

Phone features
1. It is made of cold-rolled steel, and the surface is sprayed with high-grade outdoor powder paint, which has the characteristics of cold-proof, frost-proof, dust-proof, moisture-proof, wear-resistant, and anti-violent percussion;
2. The handle is made of German Bayer ABS+PC alloy material, and adopts an integrated evacuated molding structure. Military-grade transmitter and receiver are selected internally, and are equipped with permanent magnets. It has the characteristics of explosion-proof, waterproof, moisture-proof, dust-proof, anti-noise, cold-proof, frost-proof, and anti-violent percussion;
3. The hook is made of zinc alloy stamping, after polishing, electroplating and other surface treatment processes, the back is encapsulated with imported reed switches from abroad, which can be used with the built-in permanent magnet magnet in the handle to switch between off-hook and on-hook. The hook has the characteristics of anti-cold, anti-freeze, anti-oxidation, anti-corrosion, and anti-salt spray;
4. The buttons are formed by zinc alloy stamping, and after a series of processing techniques such as polishing, electroplating, glue (oiling), etc., matching the gold-plated PCB board, good hand feeling, good electrical performance, and service life ≥ 500,000 times;
5. The main board of the phone adopts foreign-imported single-chip microcomputer to cooperate with the company's self-grinding chip development. All components adopt SMT chip technology, which has rich functions and high integration. It reserves two dry node interfaces with one open and one disconnect to enhance the connection with external equipment. Linkage
6. The overall protection level of the phone is: IP54. If you need to install it in the open air, you need to install a rain cover.

话机功能亮点
执行标准

YD/T1626-2007《固定无线电话机技术要求和测试方法》

外形尺寸

301mm×215mm×85mm(长×宽×高)

净 重

3.2 kg

供电方式

220V±20%/50Hz交流电

平均无故障工作时间(MTBF)

>10000小时

供电方式

线路供电≥16 mA

手柄线绳抗拉强度

>150 kg

话机内部

1.音量设置

2.显示设置

3.紧急电话设置(110、119、120等)

4.禁用时间(工作时间段)

5.禁拨号码(黑名单)

6.最大通话时长(单次通话时长)

7.网络参数设置(域名设置)

8.锁网与锁卡

9.密码设置
Phone structure diagram

Installation method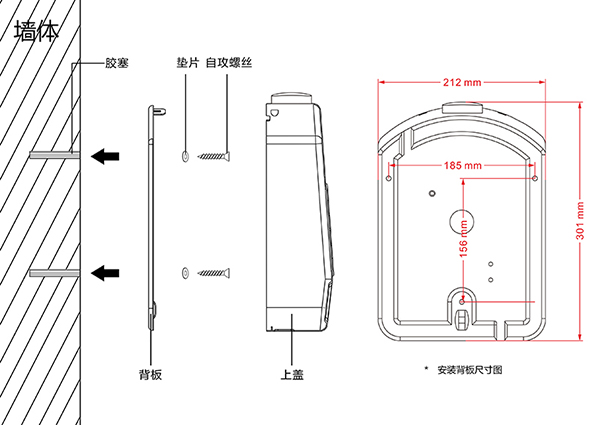 a. Drill 3 Φ6 holes (185×156mm) on the wall according to the installation hole size, and insert rubber plugs;
b. Open the phone with a key and pass the power cord through the threading hole;
c. Use the matching self-tapping screws to install the gasket, pass through the phone back panel, and fix the back panel on the rubber plug;
d. Insert the power cord into the mainboard power socket, buckle the phone cover on the back panel and lock it with a key, and then turn on the power and turn it on.

Whitelist system introduction
You can enter whitelist numbers in batches, set the validity period of the numbers, add packages that are charged monthly/quarterly/yearly, etc., and automatically stop the service when they expire.
Product packaging specifications
Specification: 1 set/box
Net weight: 3.2 KG
Gross weight: 4.2 KG
Packing: EPE, carton